The Eternal Christ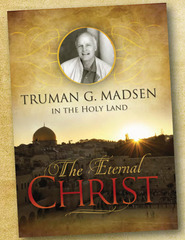 Walk the paths Jesus walked in the Holy Land with master teacher and scholar, Truman G. Madsen. Answer the call, "Come, follow me." Beautiful film footage transports you from Bethlehem to Nazareth to the Garden Tomb. Dr. Madsen's penetrating insights and witness illuminate the life of Christ in a unique and personal way. Seeing the Savior's ministry in its original setting, with added perspective from the heart and mind of a true disciple, will enhance your knowledge and understanding of the Eternal Christ.
Eight episodes on four discs
Over 480 minutes of footage of the Holy Land
Includes a bonus episode with special features
On Sacred Ground
Currently complete sets of On Sacred Ground are SOLD OUT. However, we still have volume 3 (episodes 5 and 6) and 4 (episodes 7 and 8) available for purchase. Complete your collection today.
All proceeds go to Gazelam Foundation.